Apple iPhone are the most anticipated smart phone that is announced every year and in mean time people just wait to for their launch and I must say what apple has done this time I was going crazy because according to rumors all the spec details were true but the newer announcements made me go crazy man. I thought I was the one that apple is  overrated but now I must say apple has nailed and no other smart phone manufacturer has done it all together so thumbs up for apple .So with my experience you have my first expression of the new iPhone and I must say being an android lover myself you should believe that this year iPhone 7 is just about awesome.
So starting with what the newest iPhone packs well in the event we saw it through  different aspects for you we will do the same and some major aspects we will do a detailed review so lets start.
Apple iPhone 7 Design
for iPhone 7 and the 7 plus design is quite similar to what offered by the iPhone 6s just like we got in the rumors the antenna bands are inline with the edges ans so we get a full clear back with no antenna lining. An addition to we get two new variants a normal black which has sand blasted metal back and with a black logo which looks cool if we should talk about it.And a jet black finish variant its a high glass finish which makes it a seamless surface between the glass and the aluminium back all around which meant to say it makes the back look like a glass. Other variants like space grey,gold and rose fold are also available.
well the home button is the most essential part of apple design theory it used to activate sire,multitasking,switching between apps and we cannot forget for privacy protection series and so apple had this time integrated force touch with this button with this also so that developers can take more advantage of the button for seamless functionalities and talking about force touch the 3D touch is still present in the iPhone but this time the newer tactic engine.
Apple iPhone 7 Water and Dust Resistance
The iPhone 6s had some resistance from water as we know but it was not announced by apple it was not reliable and not tested but this time the iPhone 7 and 7 Plus both are IP-67 standard dust and water proof resistance so thumbs up to that.
Apple iPhone 7 Display
The display size and the camera resolution of the iPhone 7 may not have been upgrade and still remains at 4.7 inch for the normal iPhone 7 variant and 5.5 inch for the plus variant with same resolution of retina HD display panels but this time the display has a range of color gamut giving you a full-fledged cinematic color experience so more true to life colors.
Apple iPhone 7 Camera
The camera is the best feature about iPhones we can easily get professional level well nearly with an iPhone camera . the new camera system takes mobile photography to a whole new level . Now the OIS technology comes to the iPhone  7 which was only available only on the plus variant last year. Theres a new wide f 1.8 aperature lens on the new iPhones and a new 6 elemental lens and a new 12 MP sensor whose large pixels are 60% faster and 40% more energy-efficient. even the flash has been upgrade to dual – true tone flash which means there are two set of dual tone flash and total of 4 for 2 times more lighting and a new flicker sensor .
The flicker sensor reach the flicker range of artificial light to compensate for light in the photos and videos takes by the camera.A new ISP is twice better than the previous gen iPhone ISP. and so it can capture wide level of color gamut up to cinema standards and now the low light performance is just great we must say as seen in the sample shots but we should wait for final review. with new image stabilisation the live images can also be edited easily also support for DNG raw had also been available in the default camera app.
The new 7MP face time hd camera is now we must say would be the best for selfie lovers and with new wide-angle lens and auto image stabilisation and deep trench isolation technology the front camera is as just great as the rear camera and one  of the best.
Apple  iPhone 7 Plus Cameras
For the iPhone plus variant we got two 12 Megapixel camera on the rear side one is 12 MP with wide-angle 28 mm lens just like the normal iPhone 7 camera and other is the telephoto  56  mm lens  jus t as like in LG G5 . and so we get 2 times harder zoom without losing the clarity of the photo but after increasing zoom from 2x to further the software zoom goes all the way up to 10 x.
Apple iPhone 7 Plus Sneak Peak Feature
There's a new feature camera feature for selfie lovers by apple for iPhone 7 Plus this feature lets you get a high level of bokeh effect and this feature will be available later october after the update this feature makes image pop out also creates a great amount of bokeh effect .
Here are some of the samples by apple of this features and these samples are taken by iPhone 7 according apple
Apple iPhone 7 Audio
With the new iPhone 7 we get stereo speakers one is at the bottom other is at the top and so we got better range also twice the amount of sound from the speaker from the  iPhone 6s.
Apple iPhone 7 Ear Pods
Apple ear pods is one of  the best ear pods in the world but as we know according to rumors that the iPhone 7 does not have a 3.5 mm audio jacks which is true and so apples new product is the new Airpods which ware new wireless ear pods which they call Airpods  works with newly custom-made chip apple W1  and read taps so that you cab turn on  SIRI  gives you a 5hr of battery like and case itself works as a battery pack giving charge for 24 hours available later for 160$.and for the iPhone users they will get same ear pods with just a new apple lightning connector at the other end and so you cannot listen and play together those who want to use 3.5 mm earphone jack with iPhone also get the extension of lightning to 3.5 mm jacks connector inside the box.
Apple iPhone 7 Performance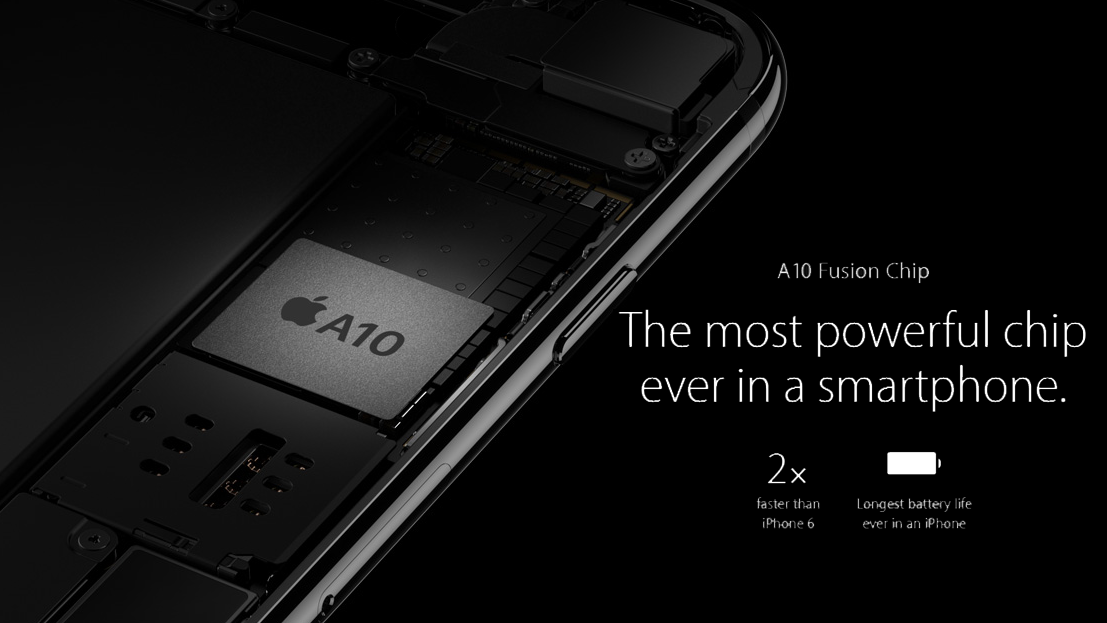 The iPhone 7 supports n apple A10 processor called the "fusion" this is a 64-bit quad-core processor for first time for an iPhone in these four cores the 2 cores are high performance cores run 40% faster than A9 chip and two other battery efficient cores which run at 1/5th the power of performance core and that so to save battery life and the new controller decides whether which cores to use like in scenarios like calling and texting efficiency cores will run but in case of gaming high performance cores will run .For gaming we get a new 6 core Gpu providing 50% more faster than the A9 and with more efficiency of 2/3rd the power of A9 and 1/2 the power of A8.
Apple iPhone 7 Battery
Battery has not been the strong sides of the iPhones but with the new Quad core chip with 2 high performance core and a 2 of the battery efficiency core we may get better battery life according to apple for iPhone 7  2 hours of more battery life than iPhone 6s and for iPhone 7 plus 1 Hr of more battery life than iPhone 6 plus  and this is on average  and you may expect more than that.
Apple iPhone 7 Storage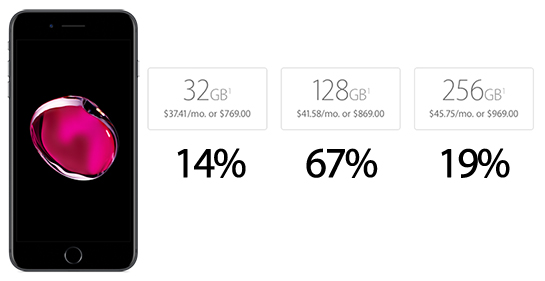 finally apple starting with 32 GB base storage but a still skipping 64 GB storage and going for 128, 256 storage option and the other variants will now follow the same trend which means that the iPhone 6s,  iPhone6s  plus and iPhone SE will come with 32 GB base storage from now on.
Apple iPhone 7 Price
With the same tradition the previous gen iPhones get 100$ cheaper and iPhone 7 32 GB starts selling with 650$ and iPhone 7 Plus with 750$.